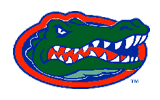 Since Kentucky lost to Mississippi State, the winner of tonight's Florida-South Carolina game will lead the SEC East at the end of the night. Thanks to a great run to the end the first half Florida has a four point lead in Gainesville.
To updated a few things from earlier, Ohio State knocked off Purdue in overtime & Georgetown finished off Rutgers. North Carolina scored a measly 107 points on Maryland and looked like the best team in the country while doing it. Meanwhile Marquette-DePaul has went from a huge Golden Eagles lead to a close game at halftime.
The main subject of the night is whether or not Kentucky is a NCAA Tournament team after their loss to the Bulldogs . Everyone is voting on it right now and I've love to get your feedback. At 10 o clock I hope to have a full rundown of the night posted.
More on the Florida-SC game and every other game at 10 o clock........